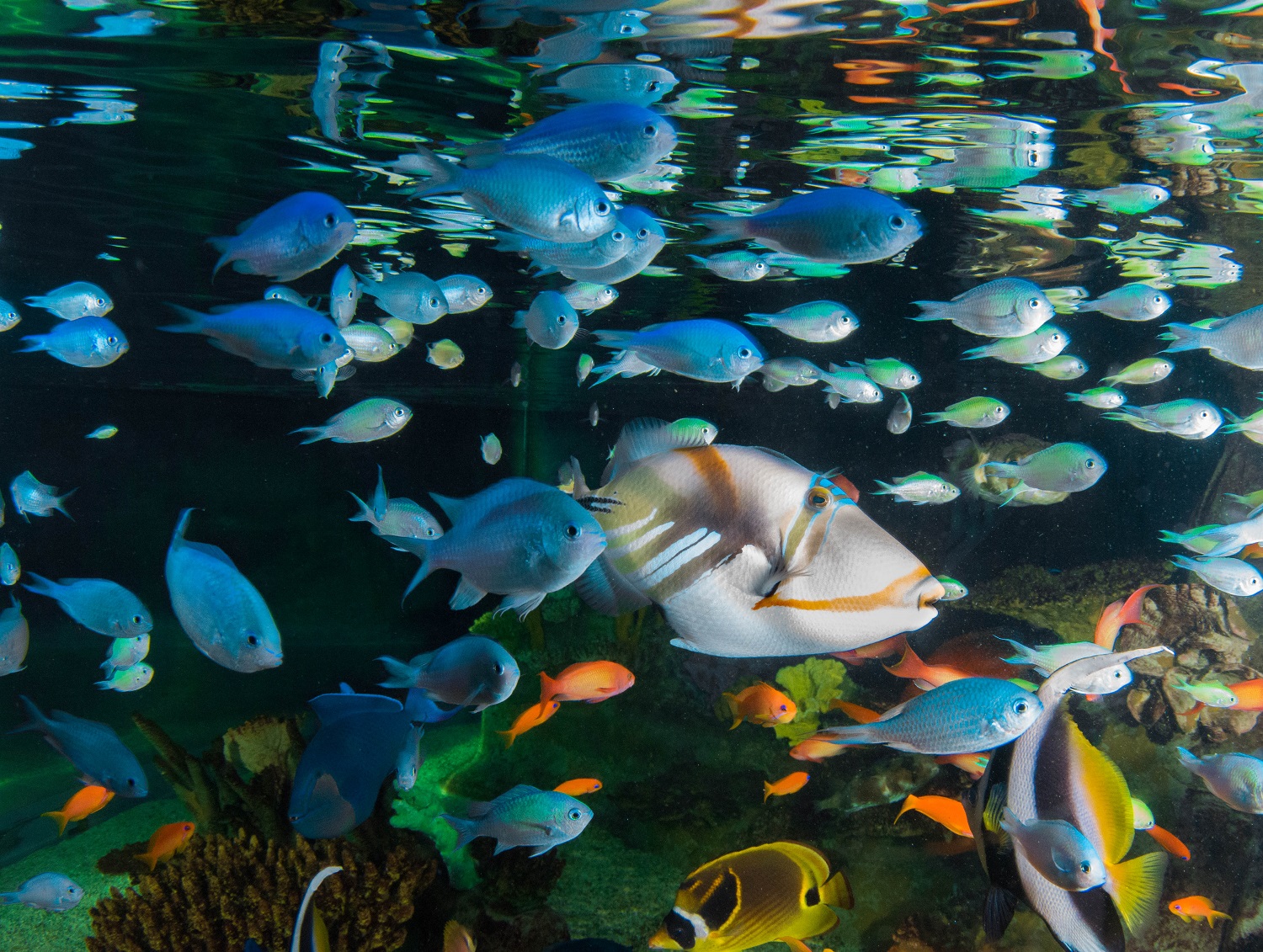 A kaleidoscope of colour awaits at Coral Cave, our spectacular tropical exhibit devoted to the bright, fun and playful creatures found in the world's warmest waters. Dive in and discover what's in store right here.
Home to over 50 species of tropical fish, Coral Cave replicates the coral reefs that can be found in the world's Indo-Pacific oceans, including the tropical waters of the Indian Ocean and the Western and Central Pacific Oceans. Maintained at a balmy 26°C, the exhibit contains some of Blue Planet's best-loved species – from the blue damselfish (​​Chrysiptera cyanea) to the spectacular Golden Dogface Pufferfish (arothron melagris).
Can't wait to join us in Coral Cave? Learn more about what's on display within this beautiful exhibit below.
What is Coral Cave?
Coral Cave is the main tropical display here at Blue Planet Aquarium, a place to see warm-water-loving species in a habitat that almost perfectly mimics their own. Expect a vivid showcase of pattern and colour, with fish of all shapes and sizes on display.
Of course, it's common knowledge just how vital coral reef systems are to tropical marine habitats all around the world. The warm, turquoise waters of the tropics are teeming with these beautiful and diverse invertebrates, which not only help to support an impossibly large selection of fish but also to clean and maintain the quality of the water in which they live.
Many of the species that live among coral reefs have a unique relationship with the habitat, feeding on small organisms on the coral's surface while sheltering from large predators. You'll encounter many such animals here at Coral Cave, with our collection showcasing some of the most recognisable and beloved inhabitants of the reef.
What's the atmosphere like?
Blue Planet Aquarium's Coral Cave exhibit is a tropical aquarium display unlike any other. Our experienced aquarists have worked tirelessly to recreate the exact conditions of a tropical marine ecosystem, with state-of-the-art technology used to ensure our animals thrive.
Coral Cave's vast saltwater aquarium is maintained at 25-26°C – the prime temperature for tropical species. And to mimic the dim conditions of a real coral cave, we've lowered the lights throughout the exhibit, creating the ideal ambience in which to enjoy the spectacular fish on display.
Over 50 species live side by side in Coral Cave, including the lipstick tang (Naso lituratus) and the orange spot rabbitfish (Siganus guttatus). Visitors can enjoy the display either from the side of the tank or from above, with a special platform offering a unique aerial view of the fishy goings-on below.
What will I find at Coral Cave?
No aquarium in the world would ever be big enough to house all the tropical species that live among the world's invaluable coral reef systems. But take it from us: we've done our best to squeeze as many animals comfortably into our tropical exhibit as possible, with over 50 fish of all shapes, sizes, patterns, and colours on show.
So, which species are worth mentioning here on our exhibits page? Well, the regal tang, that stars in the popular film Finding Nemo, is a beautiful fish that our guests love to see.
Elsewhere, we think you'll love the bluestreak cleaner wrasse (Labroides dimidiatus) for its streamlined body, while the unmistakable panther grouper (Cromileptes altivelis) looks more like a cartoon character than a real fish.
Who would enjoy the Coral Cave exhibit?
Coral Cave at Blue Planet Aquarium offers something for everyone. Whether you're a Finding Nemo enthusiast, love learning about tropical species, or simply someone that admires the beauty of colours and patterns in nature – adults and children alike can spend hour after hour savouring the spectacular display on offer at Coral Cave.
While there are over 10 unique exhibition spaces within Blue Planet Aquarium, it's fair to say that Coral Cave is among our most popular. The dimmed lighting and calm atmosphere of the exhibit make it one of the most immersive displays in our aquarium, with the added benefit of an adapted viewing platform to offer a unique perspective on the tropical species down below.
Of course, like all our exhibits, there's a lot more to Coral Cave than just the animals on display. We've included a wealth of information about coral reef systems and their importance in maintaining marine habitats, so you can discover the important role these unique habitats have to play in safeguarding our seas and oceans.
Accessibility
We have aimed to make Coral Cave as accessible as possible, however wheelchair and mobility scooters are unsuitable for access to the viewing platform. Despite this, the majority of areas within Blue Planet Aquarium have been carefully designed with accessibility in mind, ensuring a seamless and enjoyable experience for all visitors.
For more information about accessibility at Blue Planet Aquarium, please visit https://www.blueplanetaquarium.com/visitor-info/accessibility/.
Related articles
Current Water Temp
26
/ 78
Water Type
Salt Water
Climate / Biome
Tropical Marine
In This Exhibit
50 species | 500 animals
Where are we?
Indo-Pacific