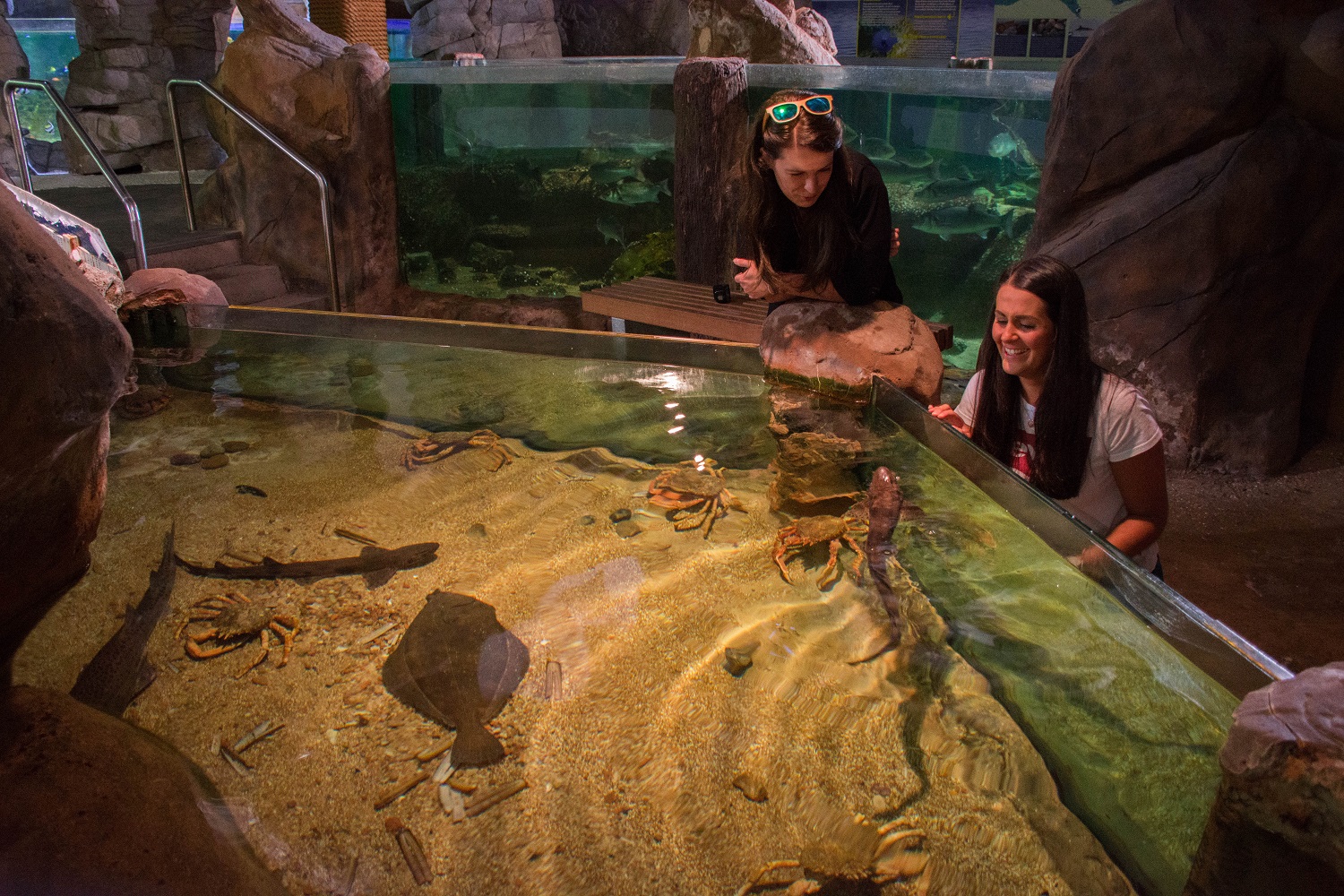 What's living along the Great British coastline? Find out in the Rock Pools aquarium exhibit.
Be prepared to (metaphorically) jump into the environments that surround our beautiful British coastline. Come face-to-face with the Lesser Spotted Dogfish and become acquainted with the Spiny Starfish that call Britain's coasts their home.
What are rock pools?
Rock pools are shallow pools of seawater that form near the coast. When the tide goes out, small pockets of seawater are often left behind in the dips and curves of the beach or shore. While these pools can often be a difficult habitat for marine life and leaves them temporarily displaced, they act as a microhabitat for species from crustaceans to coral, algae to anemones. Despite being a relatively small environment compared to our other exhibits, our Rock Pools exhibit packs a real punch.
The Rock Pools exhibit is made up of three giant, interconnected rock pools to mimic how these pools are usually dotted around in the wild, particularly along the British coast. They are filled with saltwater as they would be out in the world, with a temperate marine climate to imitate the conditions in the UK.
As with all of our exhibits, our goal is to make our animals feel as at home as they possibly can be.
What animals are in the Rock Pool exhibit?
In this exhibit you can see:
Beadlet Anemone (Actinia equina):
The Beadlet Anemone is a type of anemone that's found across all coastlines of the British Isles, making it an absolute must-have presenting an authentic view of British coastlines. These anemones are usually red but can sometimes be orange or even green.
Bull Huss (Scyliorhinus stellaris):
The large variant of the Spotted Dogfish, the Bull Huss (or Greater-spotted Dogfish) is a member of the shark family that can grow up to 5 ft in length. Usually located around the Southern and Western coasts of Britain, this fish feeds primarily on small fish, eels and cuttlefish.
Cuckoo Wrasse (Labrus mixtus):
Native to the whole of the Eastern Atlantic, from the icy waters of Norway to the tropical waters of Senegal, this hardy little fish will catch your eye with its bright colours and stern expression.
European Lobster (Homarus Gammarus):
One of the most common invertebrates of the British coastline is the European Lobster. Characterised by its blue – not red – exoskeleton. European lobsters have asymmetrical claws, with a larger claw to crush and a smaller claw used to cut.
Spiny Starfish (Marthasterias glacialis):
For the most part, the Spiny Starfish's name is pretty accurate, except for the fact that it is not a fish. These echinoderms are, however, spiny and shaped like a five-pointed star.
Tub Gurnard (Chelidonichthys lucerne):
The Tub Gurnard is a distinctive little fish that calls the eastern Atlantic its home.
Easily identified by its large, wing-like pectoral fins, this fish goes by several different names such as sapphirine gurnard, tube-fish, tubfish or yellow gurnard.
Other fish that can be seen at the Rock Pools exhibit include the Thornback Ray, Lesser Spotted Dogfish, Strawberry Anemone, Grey Mullet, and Sea Bass.
Rock pools are incredibly diverse micro-habitats, filled to the brim with incredible sea life, but they can be tough places for animals to survive and thrive. The creatures who call them home are frequently under threat from predators like the seagulls, as well as environmental changes such as changes in Ph level and chemical composition.
Can I touch the animals in the rock pools?
We no longer offer a hands-on experience at our Rock Pool exhibit because our primary aim is conservation, and being too close for comfort with the fish can cause them unnecessary stress.
The Rock Pool exhibit is an exhibit designed with the whole family in mind, with adults and children alike finding enjoyment in the variety of animals on display. With 25 species and over 500 animals, there is plenty to see and interact with.
As with all of our main exhibits, the Rock Pools exhibit is wheelchair and pushchair-accessible, making Blue Planet Aquarium the ideal family day out.
So, why not come and join us to see our exhibits as well as the many other fantastic attractions we have at Blue Planet Aquarium? We hope to see you soon.
Conservation is our priority, so we no longer offer a 'touch pool' experience at this exhibit. However, you can now get a better view than ever before by using our bathyscopes to peer beneath the water!
Current Water Temp
15
/ 59
Water Type
Salt Water
Climate / Biome
Temperate Marine
In This Exhibit
25 species | 500 animals