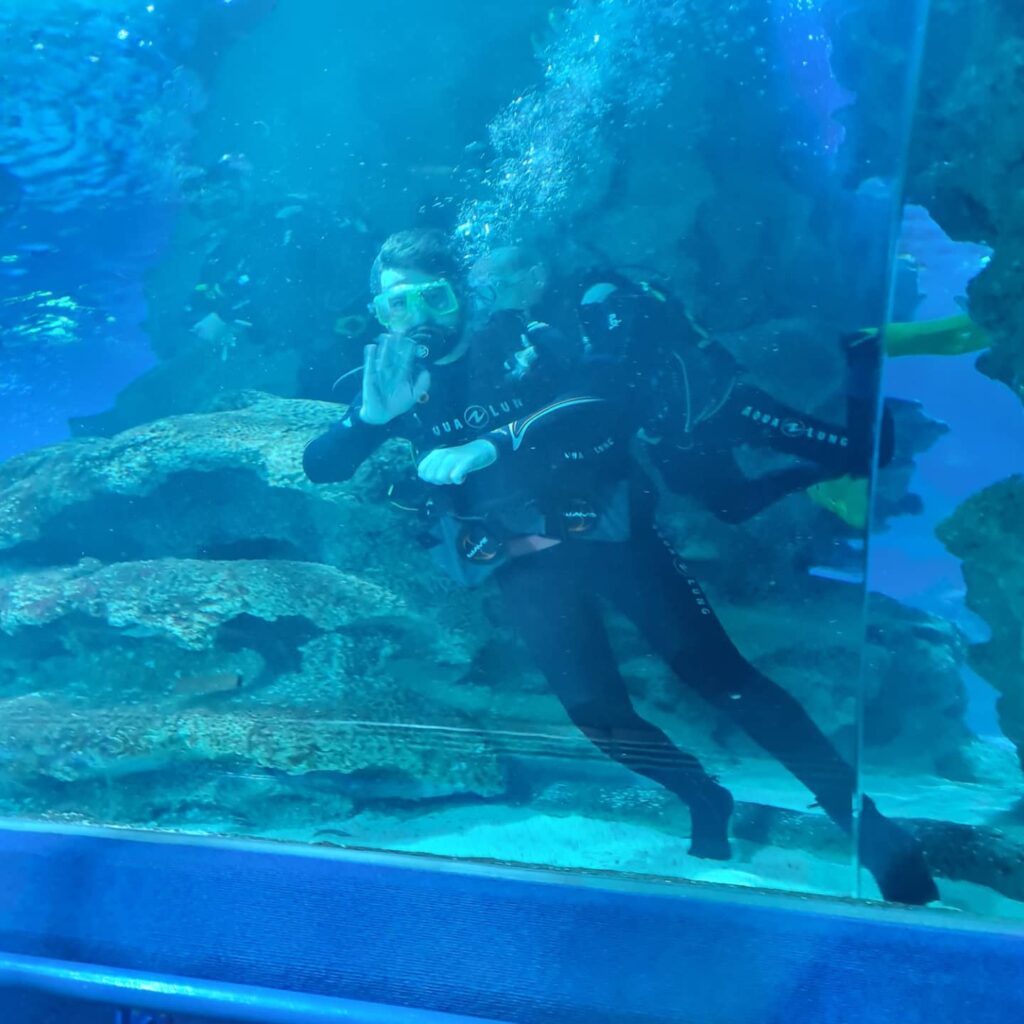 The idea of diving with sharks can bring a mix of feelings. A little fear but also excitement to get up close and personal with these fascinating underwater creatures. There's nothing more memorable than going beneath the surface and experiencing the beauty of these animals up close.
But when it comes to Blue Planet's shark dives, what should you expect?
Whether it's your first shark dive as a brave junior or thrill-seeking adult, diving with huge sharks, stingrays and hundreds of stunning tropical fish can give you some of the best feelings. Here's every thought you'll have on your shark diving experience…

1. That nervous, but excited feeling
In the lead-up to your dive, your tummy might be filled with butterflies. It's perfectly normal to experience a few nerves before diving with sharks, especially on your trip to the aquarium.
But don't be put off, our highly qualified dive team will guide you through the whole experience. They are always on hand to make you feel at ease. Whether you're taking on the junior encounter or adult experience. Try to embrace the nerves and you'll feel an even bigger sense of achievement once you've finished your dive.

2. Getting comfortable
You won't just turn up and get chucked into the deep end of the tank. Now, that wouldn't be fun for anyone! Instead, getting yourself comfortable in the water is something you'll definitely experience before swimming with the sharks. Before you venture into the big tank, you'll get to test out our more manageable training pool. It's perfect for getting used to the water and easing yourself into the feeling of being beneath the surface.

3. Appreciation for new skills
Whilst you try out our training pool, you'll also get the chance to learn some new skills. Sounds good, right? As you get used to the water, you'll receive full training on how to use the scuba equipment safely.
Our experienced divers will teach you how to fit your scuba masks correctly. As well as the technique of mastering how to breathe using the equipment. We've got the gear to cater for all ages, from juniors to adults. Relax, we've got you covered and small heads are definitely welcome.
You'll get plenty of time to practice and have the opportunity to quiz our divers on anything you like. From how the specialised equipment works, to how many times they've dived with sharks in their lifetime!

4. Sheer excitement
It's time to take on the big tank. Holding 3.8 million litres of water and full to the brim with sharks from a range of species. Now's the time to get excited. Guided by our expert divers, you'll slowly enter the tank and submerge yourself under the water. There is no cage, you'll be in the tank without any barriers, so prepare yourself. Taking in your new underwater surroundings is a pretty special experience.
Going along as a spectator? You'll be able to witness this incredible moment from our underwater tunnel. Be sure to wave hello to your kids, family, or friends from the other side of the shark tank!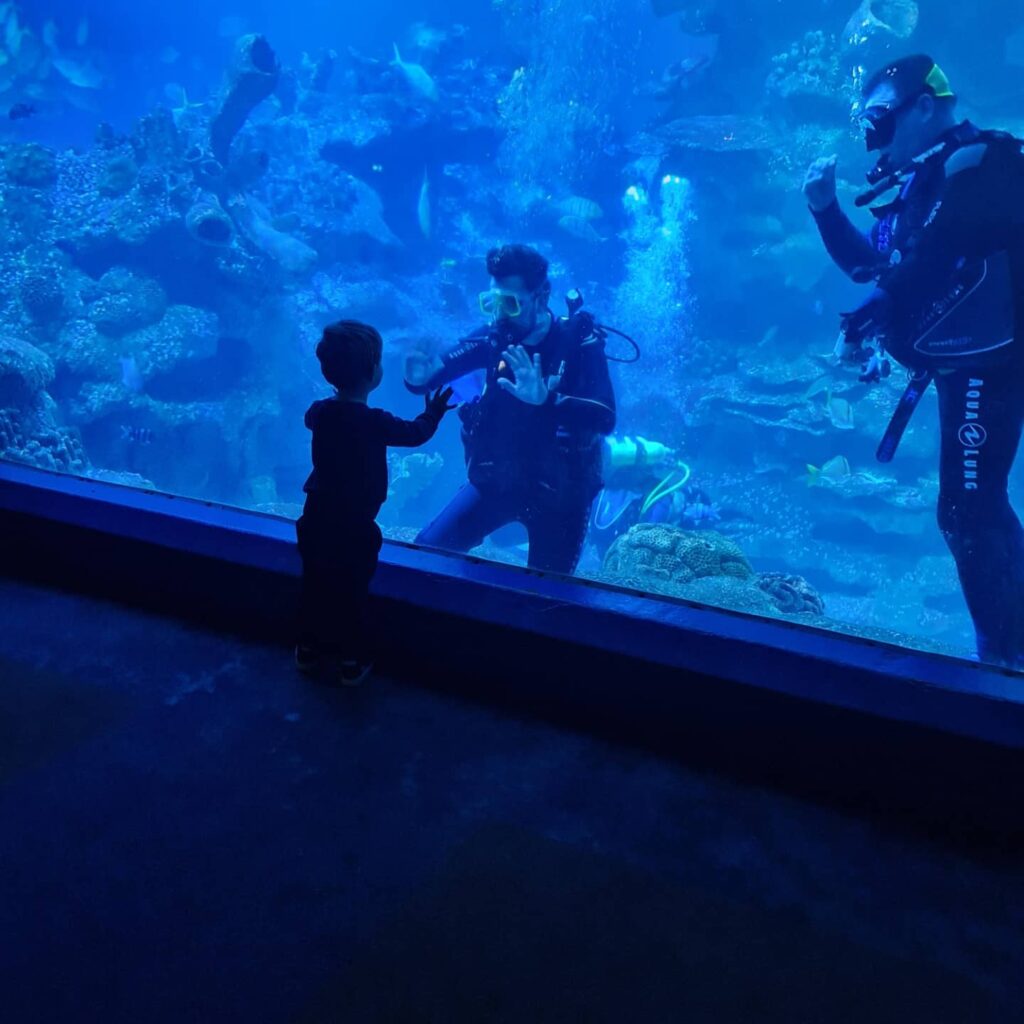 5. Total amazement
Once you're fully underwater, more than a dozen species of sharks will glide around you. Each one is incredibly unique in its own way. Look out for the real giants of Blue Planet. Namely, the Sand Tiger Sharks, these can be as large as 4 metres long!
You'll also be able to spot Blacktip Reef Sharks and the bizarre-looking zebra sharks! As well as Stingrays swimming above your heads and smiling down at you. Additionally, there are hundreds of stunning tropical fish displaying all kinds of shimmery colours. 
 
6. Please, can we do it all over again?
We wish you could swim in the tank forever too. Unfortunately, our sharks might have something to say about that! So after your designated time underwater, it's time to go back to the dryer side of the tank. Although your Blue Planet shark dive might be over, it'll definitely be an experience you'll always remember!

Ready to take the plunge and dive with Blue Planet's sharks? Find out more about our Junior and Adult Shark Encounters here.