Looking for an egg-cellent Easter event and something egg-citing to do during the school holidays?
You can step into an action-packed fortnight of Easter celebration at Blue Planet Aquarium: Introducing… The Legend of the Mermaid's Purse! – but wait…

What's a mermaid's purse?
If you're a regular rockpool adventurer then you've probably come across a mermaid's purse or two. They're are tough, leathery pouches. Commonly found washed up on beaches. However, a mermaid's purse is actually an egg case from a Shark or Ray. Find one of them (and they're pretty easy to find), chances are you've found a shark! At least where a young shark was developed and born!
How can I learn more about mermaid's purses?
No, not all sharks produce mermaid's purses; and no, it's not seaweed!
You can learn more about mermaid's purses, from what they look like to how they develop into baby sharks. Join us at the Shakey the Shark Show at 12.30 and 2.30 daily throughout The Legend of the Mermaid's Purse.
What else?
If you fancy going on an Easter egg hunt that is all it's cracked up to be – Of course you do! – we have an Easter trail planned for families this year: we've filled up jars with word puzzles and real mermaid's purses, all you have to do is find the missing word and solve the puzzle, and be in with the chance of winning an annual pass
You and your little ones can also try your hand at making mermaid's purses! Just make sure you show off your masterpieces on social media using the hashtag #ShakeyShow because we'll be on the hunt for the best mermaid's purse, which will win a very special prize!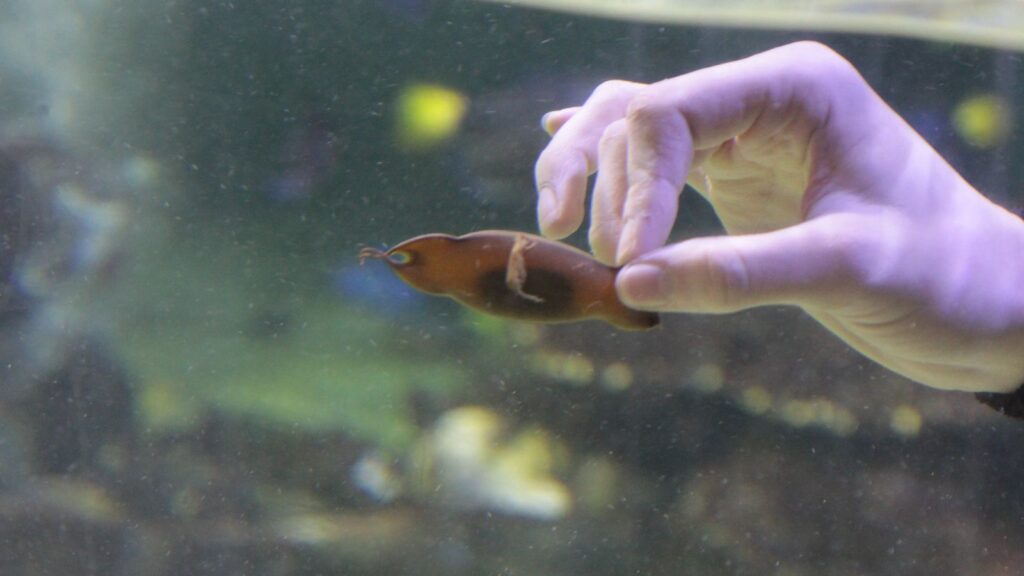 If that's not enough…
You can even meet a mermaid in her natural habitat at the Rock Pools every day during the event !!!
We hope that you're as egg-cited about Easter as we are!
Don't miss any of this action, April 6th – 22nd