Swimming with and caring for marine animals is all in a day's work for a Blue Planet Aquarium Keeper. With years of expertise, knowledge and training between them, our dive and animal welfare specialists can bring you closer to the majestic creatures of the deep, including one of the most revered marine animals of all – the shark.
Sharks have long attracted fascination and intrigue, but what are they like to care for and dive with? To find out, we're chatting to Joe Cross, Dive Officer here at Blue Planet Aquarium, about the day-to-day realities of looking after sharks – from their habits and behaviour, to what it's like to feed them and dive with them.
Read the full Meet Our Keepers Q&A below.
Question 1:
Could you tell us about your role at Blue Planet Aquarium? What does your typical day-to-day look like, and what are you responsible for within the aquarium?
Zoo Keeper Joe:
I'm the Dive Officer at Blue Planet Aquarium. My role is to ensure animal and diver welfare is maintained to the highest quality as well as offer great diving experiences for our guests.
A typical day in the dive team starts in the kitchen. As you can imagine, it takes a lot of fish to feed our Main Tank. Once food preparation is done, it's breakfast time for all the animals. The divers jump in and hand feed all our animals, except our three-metre sand tiger sharks, which get fed from a stick on the surface.
After breakfast, we clean the tank; all the rockwork needs scrubbing, the sand needs siphoning, and the windows need wiping. On weekends, we get to let our guests jump into the tank for a guided dive exploring the sharks' home.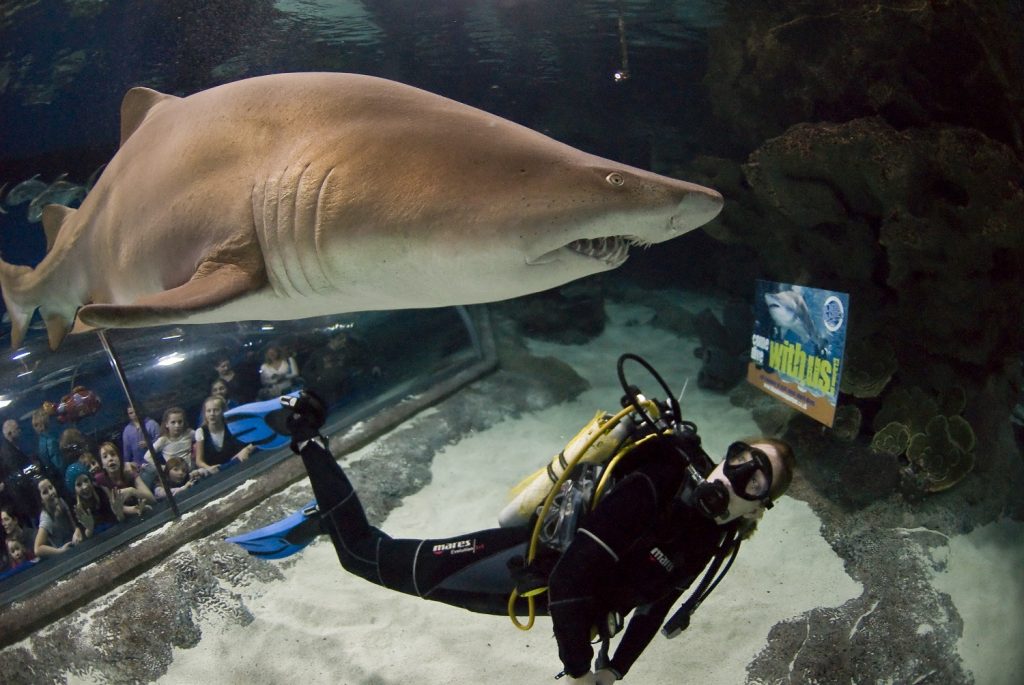 Question 2:
Many readers will be interested to hear how you got into your role. What qualifications and skills did you gain to work with animals at the aquarium? And is there any advice you'd give to someone seeking a similar role?
Zoo Keeper Joe:
Personally, I studied Marine and Freshwater Biology at Aberystwyth University, and am a PADI IDC staff instructor. The best way to get into a role like this one is to first get a PADI instructor rating. PADI is recognised around the world and is by far the biggest accreditation for anyone wanting to work in the diving industry.
The next most important thing to do is to be enthusiastic. As diving instructors, you're an ambassador of the ocean, and it's your role to inspire people to love the sea and all the animals you find in it. Being a people person is an essential skill.
Question 3:
What is the most interesting thing you've learnt about working alongside animals since you started working at Blue Planet Aquarium? Are there any aspects of caring for fish which surprised you when you first started?
Zoo Keeper Joe:
When I first started, a shark was a shark. It was difficult to distinguish between the individuals, but that changes very quickly, and you start to recognise them just like you would a pet. You start to pick up on an individual's personality and what makes them tick. Working with all these animals is unbelievably rewarding.
Question 4:
Do you have a favourite fish in the aquarium? And which species is the most interesting to work with?
Zoo Keeper Joe:
My favourite sharks are the zebra sharks; they are the friendliest and have more of a personality of a dog than a fish. The most interesting fish to work with are the nurse sharks. They are the most intelligent sharks and the greediest, which is a difficult mix. They spend all day plotting and pushing the divers to work out how they can steal an extra bit of fish. The problem is, they are very good at it, which means we have to calorie count for them to prevent them from getting overweight.
Question 5:
How do you approach working with bigger species of fish? Is there ever an element of danger involved?
Zoo Keeper Joe:
It's very easy to treat these animals as a family pet, but it's important to recognise that isn't the case. The animals aren't domesticated and still have all the predatory traits of a wild animal.
Sharks get a bad reputation as man-eaters, which absolutely isn't the case, but if we were to push these animals, they would eventually feel forced to defend themselves. This would get labelled in the media as the shark's fault, and not the diver's, and would further tarnish their reputation. Sharks are very safe to dive with, but require the individuals diving with them to give them respect. If you do that, there is absolutely no danger.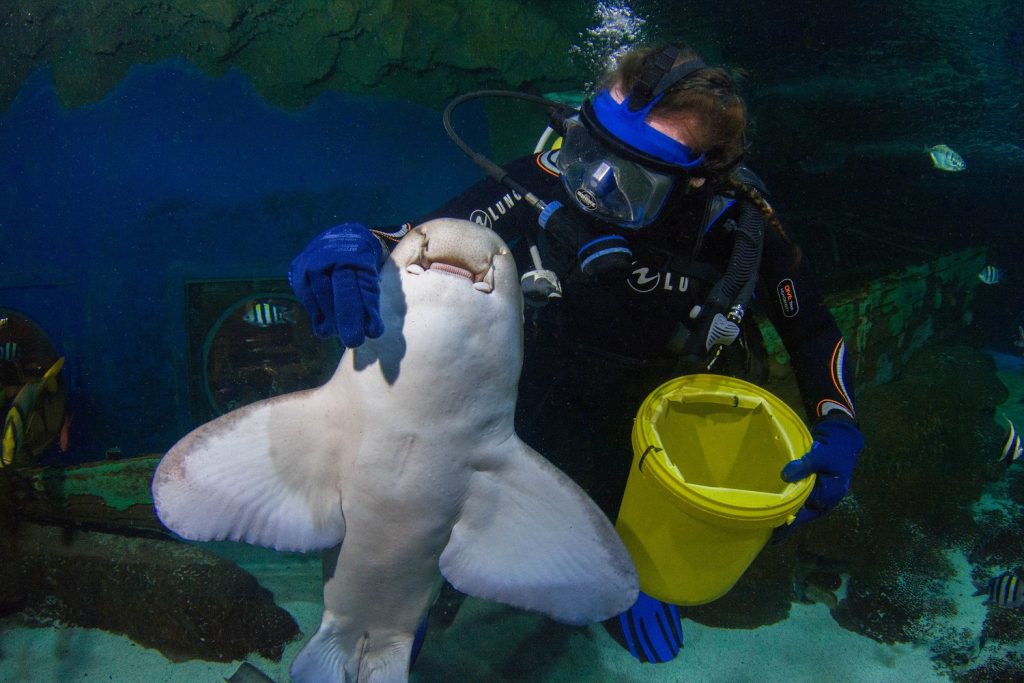 Question 6:
What would you say is your favourite exhibit within the aquarium? And what tips and advice would you give to visitors on how to make the most of their experience viewing these amazing animals?
Zoo Keeper Joe:
My favourite exhibit is the one that I look after, which is our Ocean Exhibit or Main Tank. The best way to view this is through our amazing 70-metre long tunnel. It feels very immersive, almost as if you're actually in the tank with the animals.
Question 7:
Is there any particular aspect of caring for animals in an aquarium which you think would surprise visitors? For example, which fish eat the most on a typical day? And what does feeding time involve?
Zoo Keeper Joe:
I think most people have a bad impression of sharks, thinking that they just don't stop eating. Which really isn't the case. Our largest sharks eat around 5-7 kg of fish a week, which isn't a lot considering the size of the animals.
When we feed the sand tiger sharks, we have a rattle which we shake in the water to signal that it's dinner time. Then, we feed them their fish on two bits of wood which are taped together to form chopsticks. We record what every shark eats to help maintain their health and wellbeing.
Question 8:
If you could introduce one marine animal into the aquarium, regardless of size and practicality, which species would it be and why?
Zoo Keeper Joe:
I would introduce remoras. They are the fish which you see attached to whales and sharks in documentaries. When you encounter them while driving, they will often attach themselves to divers too. Most fish are scared of divers, so it's nice when you encounter animals that aren't.
Question 9:
Do you have a passion for marine life outside of work? If so, what do you enjoy doing? And would you like to go scuba diving at famous sites, like the Great Barrier Reef?
Zoo Keeper Joe:
Yes, it's captivating being a diver. The things you get to see while diving are spectacular, and it all feels very exclusive because the majority of people never take the plunge and come and discover the underwater world. I'm very lucky that I have been able to go diving all around the world.
You don't have to be a diver to enjoy the marine world, though. I love just going for a beach walk; the amount of stuff you can find washed up on a beach or lurking in a rockpool is amazing. If money was no object, I would love to go diving in the Maldives. Pristine beaches and unbelievable marine life – what more could you ask for?
Question 10:
Diving with sharks is, of course, one of the most popular attractions at Blue Planet Aquarium. Could you tell us a little more about what visitors can expect from the experience? As well as the sharks they're likely to encounter?
Zoo Keeper Joe:
Diving with sharks is a unique experience. The first time you do it, you have an explosion of sensations. You are very aware that you're in the water, within touching distance, of three-metre predators, but equally, diving is very relaxing. There are lots of different sharks in the tanks; you have sand tiger sharks, nurse sharks, zebra sharks and bamboo sharks. There is nowhere else in the UK where you will be guaranteed so many close encounters with big sharks.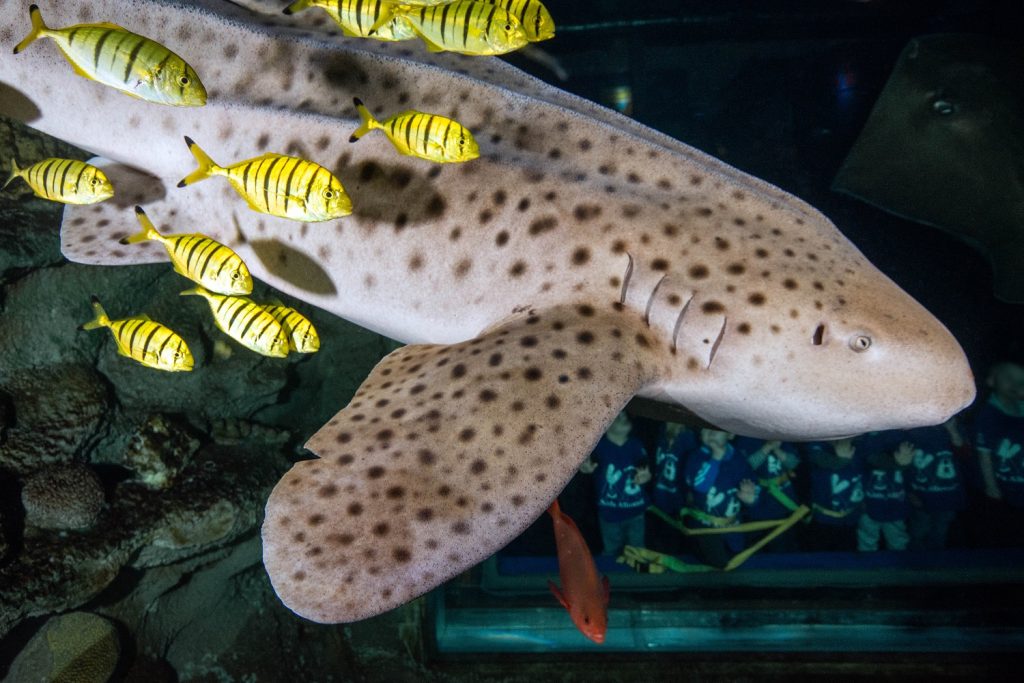 We'd like to thank Joe Cross for taking the time to fill us in on what caring for sharks is really like.
At Blue Planet Aquarium, we offer the chance for you and your family to dive with sharks! Experience a once-in-a-lifetime opportunity to come face-to-face with these amazing species, and discover how they hunt, socialise and spend their days. If you fancy a close encounter with these majestic animals, visit the Blue Planet Aquarium homepage to purchase tickets and start planning your visit today.