Thinking of a staycation this summer? Whether you're looking for a romantic escape or family adventure, Cheshire has something for everyone. Here are our top 10 things to do on your trip…

1. Chester

If you love a city filled with history and culture, this is a great day out for you. Wander around the vibrant streets and have a nosey in the variety of shops on offer. See the city from above via a stroll along the Roman walls.
With plenty of bars, family-friendly cafes, and restaurants. You'll be spoilt for choice when it comes to finding a drink and a bite to eat.

2. Jodrell Bank Observatory
Got a budding scientist to entertain? Jodrell Bank is a must-visit! Home to what was once the largest steerable telescope in the entire world, Jodrell Bank really is a national treasure.
It is still very much a functioning observatory to this day. It has an on-site visitor centre and a museum full of learning resources for people of all ages. It's a firm favourite for school trips and half-term days out all across the North West. It's one of the places that inspired Professor Brian Cox when he was a youngster.
As well as the day-to-day attractions, it's home to the annual Bluedot Festival. Which combines live music (with an electronic leaning, but very much household names!), art exhibitions, talks from world-famous scientists and even live experiments!


3. Ness Botanic Gardens
Ness Botanic Gardens is a picturesque slice of paradise on the Wirral Peninsula. Founded in 1898 and donated to the University of Liverpool in 1948. It has plenty of history behind it but is very much a modern attraction as well. Winning awards for sustainability in 2014 and 2017.
It houses some 15,000 different types of plants from around the globe, including seasonal varieties throughout the year. No wonder it's a popular venue for weddings and outdoor events.
With an on-site cafe and extremely reasonable entry prices. £6.50 maximum for adults, with concessions, child tickets and family passes working out even cheaper. It's the perfect way to spend a morning or afternoon.


4. Cheshire Oaks Designer Outlet
If retail therapy is what you're after, Cheshire Oaks gives you the deluxe treatment package…
With sheltered outdoor walkways and an easily navigable layout, it makes outlet shopping a truly pleasurable experience. Highlights include a huge Ralph Lauren store; a Levi's shop filled with discounted denim; Nike and Adidas stores; Burberry, Hugo Boss and other high-end designers; Le Creuset and other homeware delights. Finally, a whole host of places to grab a bite to eat. Whether you want a quick sandwich or a full sit-down meal.
Once you've filled your boots (or bought some new ones!), swing by the Vue cinema to catch one of the latest blockbusters!
Or for something a bit more family-friendly and educational, head over the road to…


5. Blue Planet Aquarium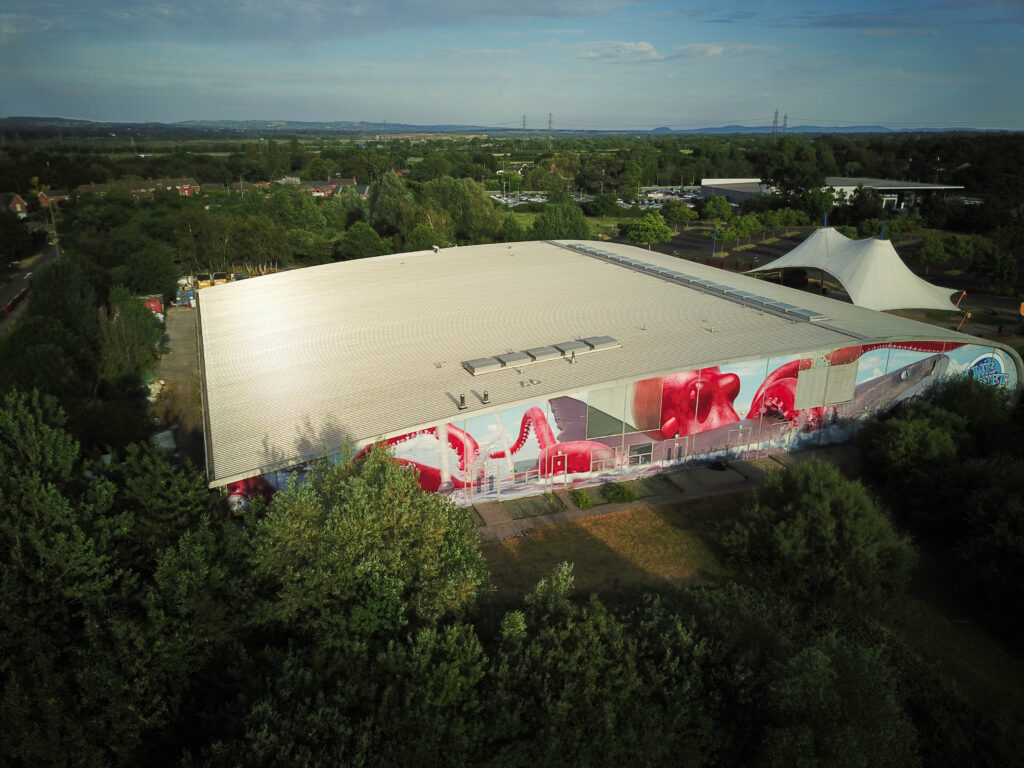 Bringing sea creatures from all over the world to one place in Cheshire. Blue Planet Aquarium is the place to come if you want to blend entertainment with education for an exciting visit!
Showcasing one of Europe's largest collections of sharks, and featuring more than 100 live displays. Experience a massive Underwater Shark Tunnel, you'll have plenty to see and absorb. It's one of the best aquariums in the whole of the UK – never mind just Cheshire!
And if you're a bit of a thrill-seeker, you don't just have to stay behind the glass… 
Fancy swimming with sharks? You can do exactly that right here. Assisted and supervised by our PADI-certified dive team. "PADI" stands for "Professional Association of Diving Instructors".
Get your tickets here
 
 
6. Nantwich
Looking somewhat like a mini Chester. The historic market town of Nantwich offers you a laidback day out. Surrounded by quaint scenery and medieval buildings. A very English affair, and lovely all year round!
Browse the vintage boutiques and antique shops. Get yourself some afternoon tea or treat yourself to coffee and cake. Head to one of the various watering holes for a good old-fashioned pub lunch.
If you're a fan of cheese, maybe time your visit to coincide with the International Cheese Awards. Held just outside of Nantwich every single year.


7. Gulliver's World
A rite of passage for all future adrenaline junkies. Gulliver's World is a child-focused theme park nestled away in a leafy part of Warrington.
Featuring thrilling rides and rollercoasters, kids' climbing walls, soft play areas and other such attractions. There's well over a full day's worth of fun to be had for the whole family! And one thing is for sure: whether you're with toddlers, infants or older children, you can expect a tranquil evening once you get home (Zzzzz…).


8. Delamere Forest
If you're an active family that loves the outdoors, Delamere Forest offers you plenty of activities on its 2,400 acres. This makes it the biggest woodland in all of Cheshire!
Strap in and unleash your inner primate at Go Ape. Lace-up those boots and set out on a long walk. Or, saddle up and head out on the biking trails. Don't forget to pack your picnic! (Although there is a handy cafe if the sarnies do slip your mind…). If you've got little ones to entertain, the Gruffalo orienteering course will be right up their str– trail. Even get some keepsake snaps in front of the Gruffalo sculpture!
A little bit of fresh air can do a lot of good. Delamere has plenty of it.


9. Cheshire Falconry
Bird really is the word at Cheshire Falconry.
Get up-close and personal with some magnificent creatures, trying your hand (quite literally) at flying birds of prey. Under the expert supervision of the falconry team, of course!
You've got plenty of options to choose from, including full-day experiences and brief encounters. So you can take it at your own pace and test the waters to see whether it's for you.
You might just discover your new hobby!


10. Hack Green Secret Nuclear Bunker
Whatever the weather, Hack Green Secret Nuclear Bunker is a safe choice. As you'd hope…
Experience the tension and secrecy of the Cold War era at this vast underground complex. A closely kept secret for more than 60 years! Equally enjoyable and insightful for kids and adults, it's a great way to cater for the whole family.
You'll be pleased to hear that the attraction's food offering is not historically accurate. No cold tins of food: the on-site canteen will give a hearty, satisfying meal that you'll remember for the right reasons.

As you can see, there are lots of fun, enriching attractions to visit all across Cheshire. Why not make Blue Planet Aquarium part of the trip? It's educational, exhilarating and boasts the broadest, most colourful collection of sea creatures in all of Cheshire. Learn more about our attractions and exhibitions here.