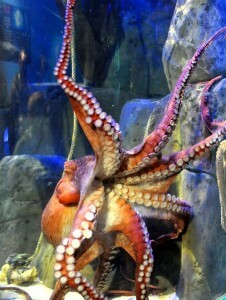 AQUARIUM CELEBRATES
WORLD OCTOPUS DAY
Blue Planet Aquarium, Cheshire Oaks is to celebrate World Octopus Day on Saturday, October 8th.
This year's event will be the 10th annual international celebration of the amazing octopus as well as other members of the cephalopod family.
The aquarium is running a programme of octopus-themed talks, feeding demonstrations and activities on the day itself.
The star of the show will be the aquarium's very own resident giant Pacific octopus.
Giant Pacific octopuses are the world's largest species and are found from Japan to Southern California. The biggest recorded specimen had an arm span of 10 metres (33ft) and weighed 270kgs (600lbs).
As well as being the largest, the giant Pacific is considered to be among the cleverest members of the cephalopod family. They mature incredibly quickly – going from the size of a rice grain at birth to being fully grown within the space of just two years.
Blue Planet Aquarium's Phil Jones said: "Octopus are such amazing creatures that it is only right there should be a day set aside each year to celebrate them.
"They are represented in the fossil record dating back 500 million years. There are about 800 species of living cephalopods known to science, with the possibility of more which have yet to be discovered," he added.
Cephalopods range in size from the tiny 5cm long Sepiola to the monstrous Architeuthis dux, or giant squid, which can reach 18 metres in length and has the largest eye in the animal kingdom –the size of a small car tyre!
Issued by Blue Planet Aquarium. For more information and to arrange picture, filming or interview opportunities please contact Phil Jones on 0151 357 8806.