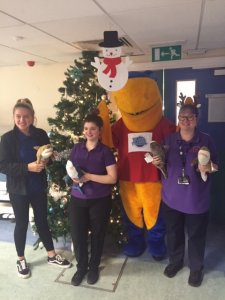 Shaky the Shark brought festive cheer this week to the Children's ward at the countess of Chester hospital. Countess Fundraising Manager Hanna Clarke, whose Chairty are Blue Planet Aquarium's official charity partner, was as delighted to see his as the children were.
"Shaky brought smiles to many who had seen a tough period in their lives, the children and parents were thrilled to see him". Shaky handed soft toys out to the children and his visit brought many smiles to staff, parents and the children. Blue Planet Aquarium also have a collection incubator in the Aquarium which has already collected over £3000 in public donations. Marketing Manager Phil Jones explains " The incubator is a very symbolic reminder that some families go through the toughest of times with the birth of their child, and we're delighted to help in a very small way in having the collection point at Blue Planet. I must thank all of our visitors who have contributed to this wonderful cause over the past couple of years."
Shaky's next assignment will be to greet the Mermaids when they arrive for their Mermaid Day at Blue Planet Aquarium on Sunday 30th December.