CHROMIS

Known for their bright colours, Chromis are one of the less-aggressive species of damselfish. Considered to be playful in their nature. Chromis are a much-anticipated addition to Blue Planet. Providing vibrancy and colour to our underwater world. Only growing to around 4" they tend to form large shoals. Large shoals are a wonderfully enjoyable sight!
Shoal Size
Keeping them requires at least 6 in a shoal. This is because it spreads the aggression from the 'alpha'. Sharing the focus of any aggressive behaviour across the shoal. As a result, individuals are less likely to suffer an injury from the behaviour of the alpha.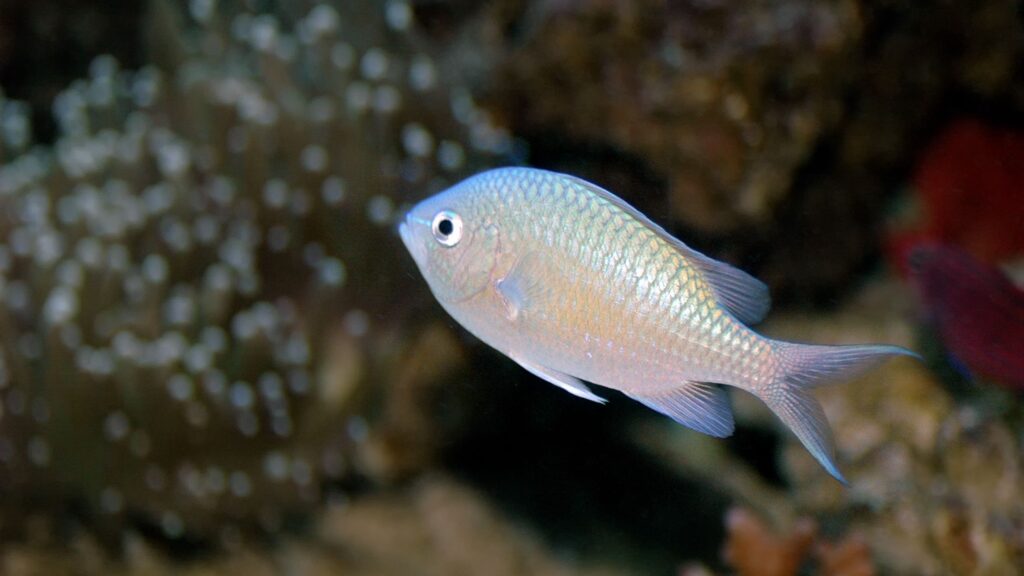 Chromis Habitats
Chromis inhabit coral reefs, often floating above them as they feed on plankton. At night they sleep between the prongs of Staghorn coral. They cause no harm to the coral themselves, living harmoniously with their habitat.
Home at Blue Planet Aquarium
These are currently in our quarantine area. This is to ensure they are safe and healthy. Once we're sure there are no complications they will be moving into their new home. They will be on display very soon in our Caribbean Reef exhibit. You can find this along our Shark Tunnel. Keep your eyes peeled for this delightful damselfish!

If you wish to visit the Blue Planet Aquarium and witness some Chromis for yourself. Visit our Visitor Information page to plan your trip. Either purchase tickets online or pay when you arrive. No need to book a time or date. Tickets purchased online are valid for 6 months.