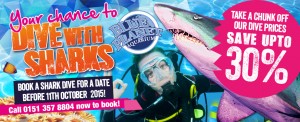 You can now save up to 30% on our Dive prices here at Blue Planet Aquarium.
For a limited period only, for Dives before 11th October 2015, there's 30% off our Junior shark Encounter dives, and 20% off Adult Shark Encounter Dives.
Junior dive for just £105,  an Adult Dive will be just £168.
CALL 0151 357 8804 TO BOOK YOUR DIVE NOW!!!