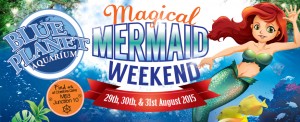 We have a fabulous Magical Mermaid Weekend this weekend August 29th,30th and 31st here at Blue Planet Aquarium.
Two 'live' Mermaids will perform a series of free dives in our shark tank here at Blue Planet every day over the bank holiday weekend.
Be sure to get here early as we're expecting this to be a busy weekend, you'll also be able to get your photo taken with our mermaids in our reception area.
Follow us this weekend on facebook and twitter #mermaidselfies