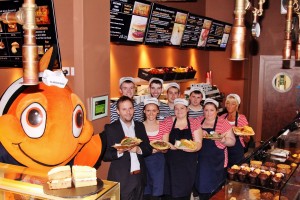 The first two phases of a major investment programme to transform Blue Planet Aquarium's underwater restaurant have been completed.
The Cheshire Oaks attraction is aiming to revolutionise the visitor experience; providing an entirely new marine-themed restaurant area, new kitchen facilities, and a more freshly prepared food offering while incorporating a range of environmentally friendly initiatives.
Phases one and two have seen the installation of a new kitchen area, the introduction of a new menu and a range of 100% biodegradable crockery.
The aquarium is aiming to have the new 'Nautilus Kitchen', which will be able to seat more than 300 diners at a time, fully complete before Christmas.
Restaurant manager, Jay Holden, said: "We have an absolutely unique setting for the restaurant with diners being able to watch three-metre-long sand tiger sharks literally swimming past their tables as they eat.
"We wanted to make the most of this and create a themed dining experience where our guests can enjoy great food in a fun and dramatic environment.
As part of the changes Jay has introduced a new menu featuring significantly more fresh produce and a range of higher quality ingredients.
"We listened to what our visitors told us and overwhelmingly they wanted to have a wider choice, fresh ingredients and a memorable dining experience – I'm confident the Nautilus Kitchen will deliver all of this and much more besides," he added.
The restaurant has already received a maximum Five Star food hygiene rating from the Food Standards Agency.
As part of the initiative the catering team have also introduced a new range of crockery with all meals now being served on palm leaf plates.
"The palm leaf plates are amazing; they're compostable, completely biodegradable and can even be fed to your pet giraffe!" said Jay.
"Wholeleaf products are not picked from the tree but from the ground by workers, they have no pulp, starch or chemical ingredient, they are just a washed, pressed and heat treated leaf," he added.
The final two phases in the re-development are due to begin next month.
and will include a re-theming of the dining area and the installation of a new in-house patisserie baking fresh cakes and sweet treats daily.