Blue Planet Aquarium is excited to announce our next Mermaid day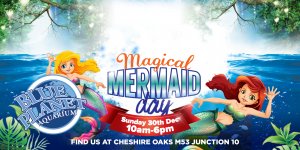 On Sunday 30th December we will be holding a Mermaid event where you will be able to come see mermaids swim in our main tank with the sharks. Come and take the opportunity to see the mermaids and aid us in raising money for Save the Manatee Club. It promises to be a fun filled family event which will awe your children.
Mermaids have made it into sea faring culture since medieval times. They have come in many different forms from traps to lure sailors into rocky traps to guardians of secret under the sea cities. The inspiration for mermaid is believed to originally come from sailors misidentifying sea animals on stormy passages across seas around the world. One of the organisms which have commonly been misidentified is the manatee, which is why Blue Planet Aquarium has been working very hard to team up with Save the Manatee Club.
This is a charity based in Florida and was formed in 1981 by singer songwriter Jimmy Buffett and former senator Bob Graham. Manatees have come under threat in recent years due to increases with human activity in their environment. Manatees are slow moving sensitive animals which have seen their populations come under stress in recent years due to increased boat traffic and competition with humans for fresh water, due to Florida's growing population.
So for a fantastic spectacle this Christmas holiday, head down to Blue Planet Aquarium on Sunday 30th December and see our free-diving mermaids who will be in water from 12noon until 3pm.
Find Blue Planet Aquarium at Cheshire Oaks, Junction 10 off the M53.